DataCenterKnowledge.com recently released their 2011/2012 Data Center Market Insights report detailing the key trends driving data center market growth. Their methodology included a poll of over 200 data center professionals, including IT executives and facilities management in more than 13 different industries.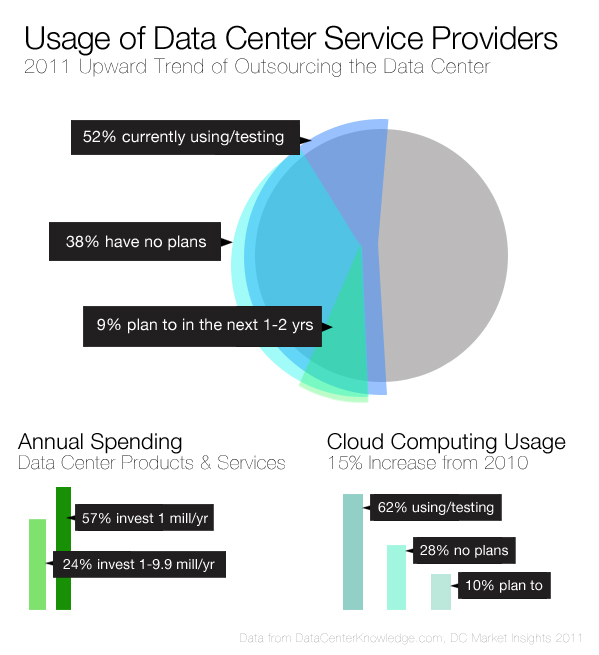 A rising trend toward data center outsourcing is gaining momentum as 62 percent of respondents reported they are currently outsourcing, testing, or planning to use a data center service provider. What accounts for the trend in using IT vendors? A few significant advantages include avoiding capital expenses, reallocating resources into operating expenses and helping to ease capacity, or provisioning planning issues.
Annual spending on data center products and services shows over half (57 percent) of respondents investing $1 million or more each year, and 24 percent of respondents invest $1-9.9 million a year. This data is complimentary to the findings of 51 percent of respondents either currently expanding or planning data center expansion in 2012.
The expansion also relates to the ability to keep up with service demands, and aligns with the top concerns and challenges of 44 percent of data center operators – data center scalability. Worries about keeping up with growing applications and audiences may be put to ease with the use of cloud computing services to improve speed-to-market and ease of deployment. The second top concern is data center capacity planning, at 42 percent, which, on average, can take 1-3 years to plan and deploy a data center, not to mention an investment of millions of dollars.
Concerns about scalability and capacity may provide insight to the 15 percent increase in cloud computing usage since 2010. Sixty-two percent surveyed are currently using or testing the cloud, while 28 percent have no future plans to deploy the cloud – down from 41 percent that had no future cloud plans in 2010, showing increasing comfort cloud adoption in 2011.